Information Security is very important to us and our customers. Therefore, we have obtained ISO / IEC 27001: 2013 certification issued by Lloyd's Register. Addressing this standard ensures long-term security, based on the implementation of security policies, procedures and methods designed to protect the information and resources of organizations. Minimizing risks ensures that the management system is functional and meets the company's operational requirements, customer expectations and compliance with applicable law.
Polytrade Global currently has 9 ISO certifications issued by Bureau Veritas and Lloyds Register:
ISO 14001:2015 – Environmental management
ISO 45001:2018 – Occupational health and safety
ISO 28000:2007 – Supply chain security Management System
ISO 22301:2019 – Business Continuity Management
ISO 10002:2018 – Quality management – Customer satisfaction
ISO 31000:2018 – Risk management
ISO/IEC 27001:2013 – Information Security Management Systems
ISO 37001:2016 – Anti-bribery management systems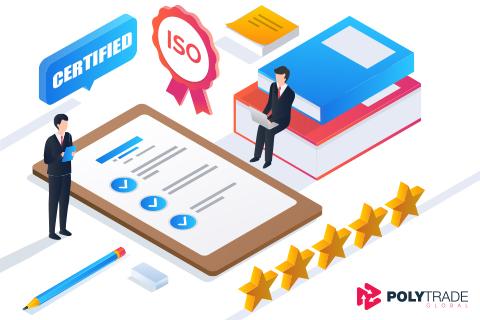 We also obtained SMETA certification, issued by SGS.
SMETA – Labour Standards, Health & Safety (plus Environment 2-Pillar), Environment 4-pillar, Business Ethics
We value quality and we always want to have happy customers, that's why we will keep making efforts to obtain the most prestigious certifications in the field in which we operate.
* The International Organization for Standardization (ISO) is an independent, non-governmental international organization that brings together experts who share knowledge and develop international standards that support innovation and provide solutions to global challenges.
** SMETA is one of the most used social audit procedures in the world. It offers a globally recognized way to assess the entire business of the company, but also labor rights, health and safety, the environment and business ethics.